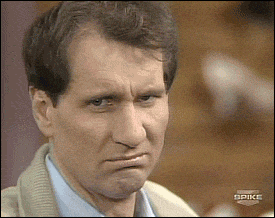 Hey, no disrespect to the Sixth Circuit Court of Appeals, and all…
They decided last week in NLRB v. Alternative Entertainment (opinion here) that, under the National Labor Relations Act, an employer cannot force employees to agree to mandatory arbitration and bar collective or class action lawsuits. The former is ok, the latter is not because barring collective or class action lawsuits interfere with employees' right to engage in concerted activity, according to the Sixth Circuit.
So, why the Al Bundy face, Eric?
Because the U.S. Supreme Court has already decided to resolve this issue. More on that here. And I'll keep you updated on that. In the meantime, I'm curious about how this impending decision will impact my readers.
So, go ahead and take this one-question poll about how your business may be impacted by a forthcoming SCOTUS ruling. I'll report the results tomorrow.